Are you looking for employment in a care setting?
Have you thought about being a Healthcare Support Worker within a Mental Health inpatient ward?
 This programme could be for you*!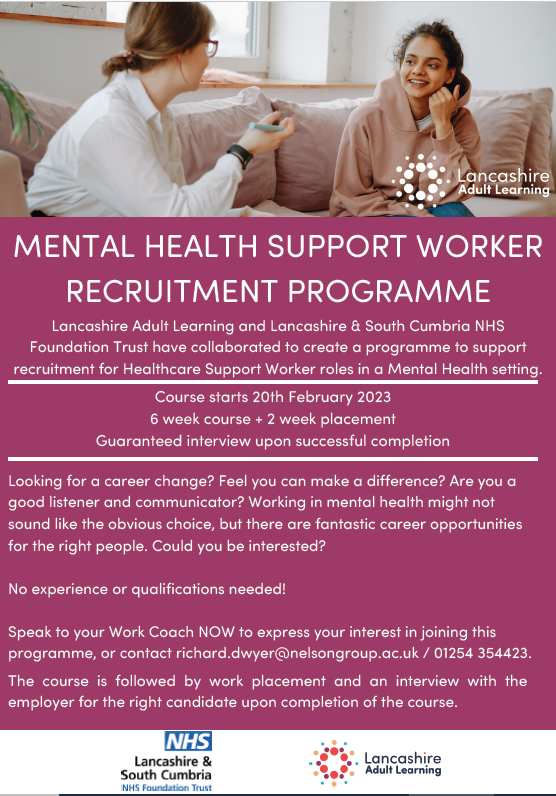 An overview of the programme – 
This new programme is designed to support and prepare people to gain employment as a Healthcare Support Worker in a mental health setting for Lancashire and South Cumbria NHS Foundation Trust (LSCFT).
The course allows learners to understand what it takes to work in a Mental Health setting whilst supporting them to gain relevant qualifications for the role of a Healthcare Support worker.
As part of the programme, learners will complete short courses in a range of subjects to upskill and increase knowledge in sector-specific topics to improve opportunities for progression.
The design of the programme was in collaboration with LSCFT and Guild Lodge to create a programme that would prepare learners for stepping into the Health Care Assistant role. Staff from LSCFT will support employability sessions to give a valuable insight into the expectations of applicants and support them through the job application process. A two week placement is included in the programme to experience the role and the environment of a mental health inpatient unit.
The programme is planned to run for 8 weeks (not including the half term):
/02/2023
Weeks 1-6: Class based sessions attending Monday – Wednesday 10.00am – 3.00pm
Weeks 7-8: Placement: 3 days each week, 10am – 3pm
Successful completion of the course and placement will guarantee you an interview for one of our band 3 Healthcare Assistant roles at Guild Lodge!! 
For more information and to apply, please contact your work coach today!
*You must be 19+ to qualify for this program.