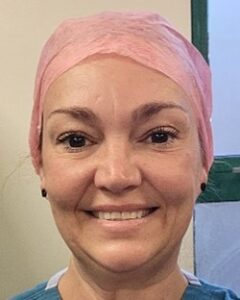 Mandy Moore
Operating Department Practitioner 
Name, current role and place of work
Mandy Moore

I work as an Operating Department Practitioner (ODP)

I work at the Walton Centre

Why did you choose to become an ODP?
I chose to be an ODP because it is such a unique and specialised role within the perioperative setting. I enjoy all aspects of the role and the ability of providing specialised care for my patients.
Describe your current role and what it involves
My current role is solely in anaesthetics.

I assist the anaesthetists in the airway management of patients coming for surgery. Giving the relevant drugs to anaesthetists, checking all anaesthetic machines and monitoring, ensuring appropriate airway devices are available. I make sure the operating table is correct for the procedure and that I have everything need to position the patient safely. I am there throughout the procedure and assist in the waking up of the patients and transfer to the recovery room.

If on night shift, then the anaesthetists and ODP recover the patient prior to returning to the ward.

Describe the journey to where you are now in your career
I have had many various jobs in my life prior to joining the NHS but I will focus on my ODP journey. I joined theatres as a support worker in 2003 at Band 2, this is where I first discovered the ODP role as I had never heard of it before even though I have had surgeries myself!

I did a 2-year foundation degree at Edge Hill University in 2011 which resulted in me becoming an Assistant Practitioner (AP) Band 4. I was placed onto the scrub role in urology and other specialities such as breast and general.

In 2015 there was an opportunity for me to be seconded onto the ODP course which I completed in 2018.

In my previous trust I scrubbed with the surgeons and did the anaesthetic role (dual role).

I am currently finding my new role in a new trust extremely interesting.

What's the best thing about being an ODP?

What makes your profession great?

Having such unique abilities.

Helping patients through their perioperative journey which can often be very stressful for them. Helping keep patients alive.

"Why you should become an ODP?" Advice you would give
If you want to be part of an amazing team of people and specialists and are interested in the healthcare setting, then this could be the career for you.

If possible, try to acquire some experience of a theatre setting as it is not suitable for everyone.

I have no regrets.