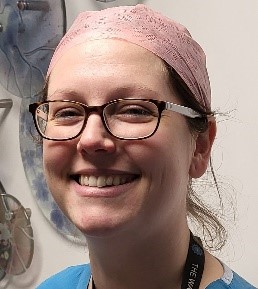 Natalie Pauls
Senior Operating Department Practice
Name, current role and place of work
Natalie Pauls

Senior Operating Department Practice

The Walton Centre NHS Foundation Trust

Why did you choose to become an ODP?
I wouldn't say I choose to become an ODP, I kind of stumbled into it. Looking through the local paper one day in 2005 I came across and advert for a theatre apprenticeship. Piquing my interest, I attended an apprenticeship interview only to be told that I was over qualified for the post and had I looked into Operating Department Practitioner.

A few months later I attended an ODP course interview at Edge Hill University and over the course of 18 years I have received my diploma, started my first role at The Walton Centre NHS Foundation Trust and progressed to band 6 practitioner.

Describe your current role and what it involves
Currently I am both education link and theatre training (audit) lead within the theatre department.

I am also part of the wellbeing team.

Describe the journey to where you are now in your career
I have always tried to take on new roles within the operating department and over the years have assumed various responsibilities such as anaesthetic rotas, I've been part of the list planning team, manual handling lead and infection control link.
What's the best thing about being an ODP?

What makes your profession great?

The best thing about being an ODP is knowing the difference that we can be making in our patients lives. Working in three areas (scrub, anaesthetics and recovery) every day is different to the last and with that brings a new challenge.

A good ODP is meticulous, can plan for all eventualities, has good communications skills and is both friendly and supportive.

ODP's are a fantastic group of people whom many people don't even know exist however every patient who passes through theatre will have come across an ODP either during or after their surgery.

"Why you should become an ODP?" Advice you would give
If your looking to make a difference in peoples lives, love a challenge and want to continually develop your knowledge and skills then maybe becoming an Operating Department Practitioner is for you.